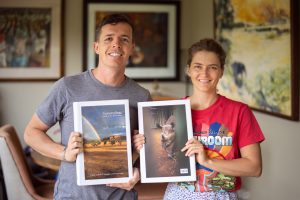 GONAREZHOU AND THE RETURN OF BLACK RHINO 
'Gonarezhou and the Return of Black Rhino' is a 455 page, A4 sized hardcover, beautifully bound and printed visual exploration into the people and wilds of the Gonarezhou National Park.
Readers are immersed into the natural and social landscapes of Gonarezhou through a collection of photographs taken over a period of two years. The visual story of the history of black rhino within the park is told through historic material and the return in 2021, through photojournalism coverage of their capture, translocation and release into Gonarezhou. 
The written story charts the intertwined history of people, landscape and wildlife in Gonarezhou National Park through the rise, fall, disappearance and reemergence of a black rhino population. The book grapples with legacy of the park's turbulent history alongside the story of how through persistence, collaboration and belief, a Zimbabwean national park and a critically endangered species, endures. 
'Gonarezhou and the Return of the Black Rhino' is an ode to the honest, hardworking people who have steered the national park from near-collapse to become Zimbabwe's most celebrated conservation success story to date.
The book is written by Joanna, with photography by Buck. The first, limited edition print run of 500 books sold out within a week. 
AVAIBLE TO ORDER  NOW